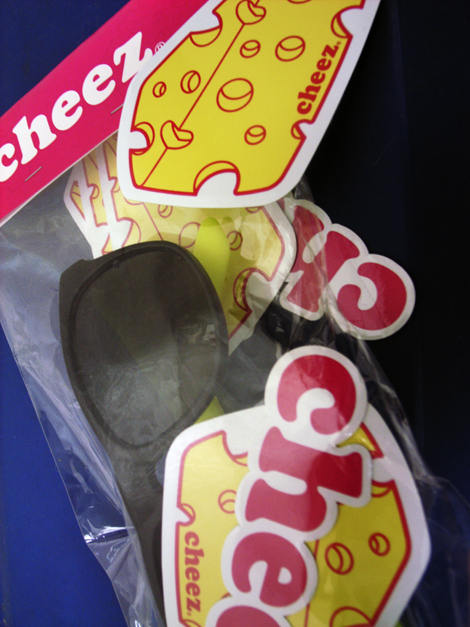 Found on this blog: http://pedalmafiablog.livedoor.biz/
So somewhere far in Japan some guy named "Dekajun" has a label coincidentally named Cheez. Cheez!? Its even in the same font I laser etched on my usb keychain (created in fall '06) for fucks sake! What are the chances of that? Dekajun must be a very clever guy since he's thinking like me.
What kind of label is this anyway? According to the blog the items are "bicycle inspired" and apparently they are "looking pretty good." It seems to be part of a larger collection called "RESONATE GOODENOUGH." What kind of hodgepodge crap name is that?
Japanese Hipster A:
Hey Yoshi!
Japanese Hipster B:
What up Shino!
A:
I think I have a new name for label.
B:
Nande
?
A:
AERO CRAZY ONION!
B:
Haha
sugoi
Yoshi! I have label too!
A:
Honto
?
B:
ROCKET ULTRA KNIFE!
It reminds me how Japanese stationary always have the weirdest captions.
+ cheez